Tanager bird, Tanager Drive, Tanager Place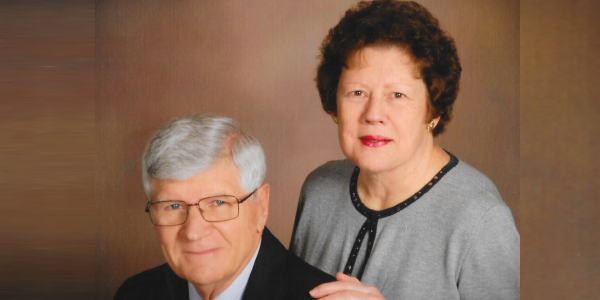 When Bill and Jeannette Holtz moved to Tanager Drive, and he later worked at Tanager Place, they did not know the deep relationship they would forge with the Tanager mission or how they would positively impact the lives of the thousands of children who walk through our doors.
As is so often the case with Tanager Place benefactors, the couple simply saw a need and took action. To date, they've given annually to Tanager Place programs for nearly a quarter of a century. They've also included the children of Tanager Place in their estate plan, ensuring their legacy of hope and healing.
How have they become such adamant supporters? It goes back to a single year - the year Bill spent working in the human resources department at Tanager Place.
The couple met while working at United Fire Group. They had no idea their chance meeting would ultimately result in many happy years of marriage and four successful children - Matt, Ann, Susan and Julie.
In 1995, just before Bill would begin a longstanding career with U.S. Bank, he agreed to take a job at Tanager Place. Although he didn't stay long, his time with the organization shaped his and Jeannette's world view and their personal emphasis on philanthropy.
At one point, Bill saw a young child arrive at Tanager Place with a suitcase, but no caring or supportive adult. That tugged at his heart in a way he never expected, and the Holtz family made their first donation to Tanager Place.
They've continued to give each year, and have included Tanager Place in their estate plan, because of the "productive" work done here and the great need for such services in the community.
Bill's wish, in fact, is for more people to know and understand the broad scope of services offered by Tanager Place. Jeannette is proud of how many children and families our organization serves each year.
"If people only knew that because Tanager is in the schools so many more children are being helped - they'd be willing to give, to support," Jeannette said.
The Holtz family understands that early intervention can have a lifelong impact, helping a child to have a much more successful adulthood. They know successful adults help area employers and local communities.
"Our grandchildren have been so lucky; they have good lives," Jeannette said, remembering how her own mother struggled to raise her and her five sisters after her father's untimely death when she was five years old.
"It wasn't easy, but we always had what we needed and we felt loved. It bothers me that all children don't have happy homes."
It was the couple's passion for their own families and their desire for all children to have a strong start that led them to meet with their estate attorney about a gift in perpetuity. The two saw it as one more way they could model strong community ties to their own children.
The planned gift, they say, makes them feel good and makes them proud that they will continue to help their community thrive. Having lived a life beyond his expectations, Bill says "it seems right that we share some of our wealth."
And what would Bill and Jeannette say to someone considering a gift to Tanager Place?
"Absolutely! Do it! If you've got money to buy a new car next year or to go to the grocery store for what you want, you've got money to leave and you'll make a difference in the world!"