Jim and Kristin Novak: Chance meeting with teens creates gift for Tanager Place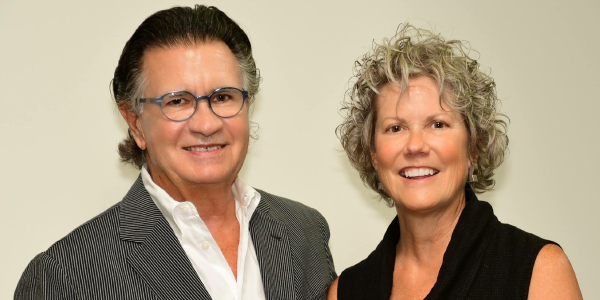 One February day changed knowledge of Tanager Place to passion for the children served there. In a chance meeting, two teenage girls shared with Jim and Kristin Novak that they were in treatment and living at Tanager Place for a time. While visiting with these energetic and articulate young women, the Novaks learned some of the girls' stories and reasons they were in care. They also learned their hopes and dreams for the future. These captivating girls were fun, entertaining and full of life!
Mention the two young teens, and both Jim's and Kristin's eyes light up, and they break into smiles. Jim, a long-term foundation board member, and Kristin, a seasoned nonprofit executive in our community, both knew Tanager Place. This day, however, they met children in our care and put faces, stories and emotions to their understanding.
The impact on all parties was profound. The girls found kindness and hospitality, the Novaks found new respect for the challenges faced by real children and concrete examples for their giving. This experience inspired Jim and Kristin to generously include Tanager Place in their estate plan. Through leaving a percentage of their estate to Tanager Place, the Novaks help guarantee countless children-like these two girls-will continue to receive quality, loving care.
When asked to describe Tanager Place in three words, the couple settled on caring, entrepreneurial and progressive. Both state that their intention is not to change the world, but to help others near home. Jim reminds us once again that the girls were his inspiration! Kristin's hope is that more people will learn about Tanager Place and how important it is to our community.
For years, Jim and Kristin have supported the expressive arts program. Jim says, "Seeing the kids' art on the walls is so inspiring!" They both believe in music therapy and have witnessed its power in the young and old. Jim is most proud of the Tanager Place Endowment Foundation's caring, careful and intelligent management of funds and says his wish for the organization is greater financial strength.
Kristin developed her philanthropic interests while in leadership with various nonprofit organizations and working to collaborate on legislation with other agencies. The depth and breadth of need revealed the impact one person, or couple, can have on the future of a child. Jim is firm in his commitment to give back to the community that has supported his successful architectural design practice. Both of them prefer quietly living life and doing what feels natural in philanthropy. "It's not about us, it's about the organization," Kristin says.
To both Jim and Kristin, we say thank you for your passion for children. When you leave a legacy gift to Tanager Place, you do, indeed, support our community, and you change the world, one life at a time.
When you leave a legacy gift to Tanager Place you support our community and change the world, one life at a time. If you want to learn how you can make an impact , like the Novaks did, please contact Melissa Walker at mwalker@tanagerplace.org or 319-365-9164 ext. 310. to get started.