Vern and Ann Bagley: Love. Security. Connection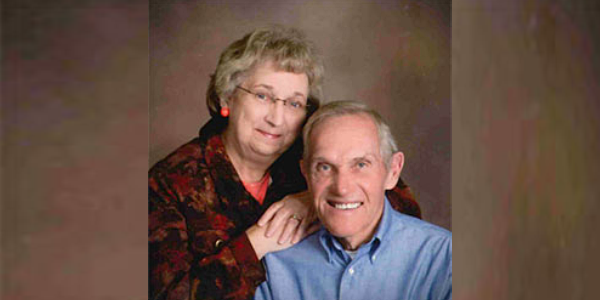 Strong families value love, security and connection. So do strong donors like Vern and Ann Bagley. Their love for children led Ann to begin calling around town 28 years ago. Her quest? To learn which child-focused organizations might need some help with supplies. Tanager Place answered the phone-and a lasting friendship was born. A special bond developed between Alice, our food service manager and the Bagleys. They look forward to seeing each other on a regular basis.
LOVE.
Since that day almost three decades ago, Ann and Vern have delivered bags of personal care items, art supplies, coats, hats, mittens, shoes and school supplies at least twice a month! They know that the children living at Tanager Place for a time, in the Psychiatric Medical Institute for Children, have a great need for love. Having raised two sons and loving their four grandchildren and four great-grandchildren, they understand a child's need. Delivering supplies is one way Ann and Vern provide love to children they've never met. The children eagerly await deliveries and share their gratitude with handmade thank-you notes.
SECURITY.
The Bagleys have been blessed with health and solid work throughout their 61 years of marriage in the charming home in which they started their family. Vern spent 30 years with the Cedar Rapids Fire Department-co-developing the area's first Hazardous Materials Team-then seven years connected with the Fire School at Kirkwood, so security is second nature to him. He and Ann saved up their money so they could travel and enjoy retirement.
Neither Ann nor Vern was raised with wealth and they don't consider themselves wealthy. As Ann says, "We're not rich, but we do all we want and have all we need." Ann loves to shop; Vern plays golf almost daily. If there's gas in the car and golf cart they're happy!
Because they know a young man with mental health issues, they understand the struggles children face as they learn to live with their mental and behavioral challenges and are stretched to learn and behave in new ways. Having self-care items, new clothing, and materials of their own helps them feel secure.
Ann and Vern have gone one major step further, though, in providing security. They've arranged for Tanager Place to receive a very generous gift after their lifetimes. Their legacy gift will help future children feel the same sense of love and security as they grow and heal in Tanager services.
CONNECTION.
While working on retirement plans with their financial advisor, the Bagleys were asked to consider the legacy they'd like to leave for their children and the community. After talking and thinking, their values and dreams became clear: Ann and Vern wanted to provide for at-risk children in more than one organization and a life insurance policy with Tanager Place as a beneficiary was the answer. "It was a comfortable way for us to save and provide future charitable giving without compromising our lifestyle," Vern said about the insurance plan. "We could afford it, so why not?"
Through this insurance policy, the Bagleys will connect with Tanager children far beyond their lifetimes, as their donation helps provide love, security and connection. We are honored to have a special connection with such warm and thoughtful people. Ann and Vern model the love, security and connection that all children should have.
If you want to be like the Bagleys in caring for our children through a legacy gift, we can help you. Simply contact Melissa Walker at mwalker@tanagerplace.org or 319-365-9164 ext. 310. to get started.