Ruth Paulson and Family: Imagine yourself a philanthropist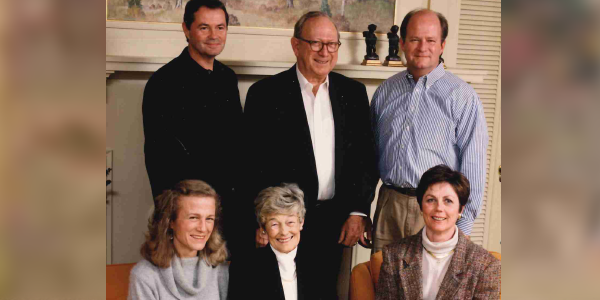 Imagine a place where the view encompasses the stars.
Imagine a place where you meet and learn from new friends.
A place where you challenge yourself and you find out just who you are.
Imagine a place where children's dreams unfold.
Where laughter is heard for miles and for years to come.
This is Camp Tanager. A place of fun and learning for kids.
HUMBLE, IMPORTANT WORK
Ruth Paulson didn't set out to be a great philanthropist. She merely sat each evening handwriting thank you notes, thousands each year, to the people that donated to Camp Good Health (now Camp Tanager). As the committee chairperson, she could have delegated the task, but it gave her a chance to connect personally with donors and it never felt like work. Then, in 1995 she took her philanthropy to a new level and established an endowment to provide youth programming at Camp Tanager. Ruth set in motion a gift that continues giving through generations.
VISION FOR THE FUTURE
In her wisdom, Ruth arranged for a small portion of the interest to continue compounding while the rest has been invested in programming. Ruth's impact? Innumerable changed lives. Children are referred to overnight camp through area schools and physicians for a no-cost week long camp. Special weeks are set aside for children with Hemophilia, Diabetes or Tourette's. Camp Tanager, established in 1926, is funded 100% through donations.
PROGRAM FOCUS
The Paulson Family Endowment helps to provide programs throughout the year that give children experience in the great outdoors. Activities help to build self-confidence, increase independence and establish lifelong friendships for thousands of children each year. Ruth set up an endowment that has given nearly 15,000 children the chance to celebrate childhood in a beautiful setting.
FAMILY HONOR
In honor of Ruth's devotion to Camp Tanager her children continue to make annual gifts. Frank Mitvalsky (Cheryle) of Cedar Rapids; Fritz (Ann) Paulson of Marion; Karen Mitvalsky Reichard (Jim Mackay) of Des Moines; and Dessa (Wendell) Paulson Goddard of Berkeley, California each perpetuate Ruth's legacy. Ruth's grandchildren and great grandchildren are able to witness the family's legacy as the Paulson Family Endowment continues to impact the community each year.
RESPECT FOR PAULSONS?
The Paulson Family Endowment grew when relatives and friends offered memorials upon Ruth's, and her loving husband Theodore's, passing. According to her children, she would be thrilled and humbled to know how this endowment has grown.
When asked what he would tell a friend considering a planned gift or establishing an endowment to Tanager Place, Ruth's son Frank shared, "You should absolutely do it! You'll be amazed and extremely proud of how the fund grows and of all the good things it does for the children."
PHILANTHROPY ROLE MODEL
Years ago Ruth said, "And I love the children. Camp Tanager is such a wonderful experience for these children…an experience they otherwise would not have if it weren't for all the donations."
On behalf of the thousands of children attending camp through the years, we are grateful for your foresight, Ruth. Thank you for being a pioneer philanthropist and a great role model.
Can YOU imagine yourself leaving a planned gift to Tanager Place and setting in motion a similar legacy?
WE CAN HELP
There are many ways you can support Tanager Place and the children we serve, like Ruth. To learn more, contact Melissa Walker at mwalker@tanagerplace.org or 319-365-9164 ext. 310.