Nikki Kettelkamp: One person can truly change a life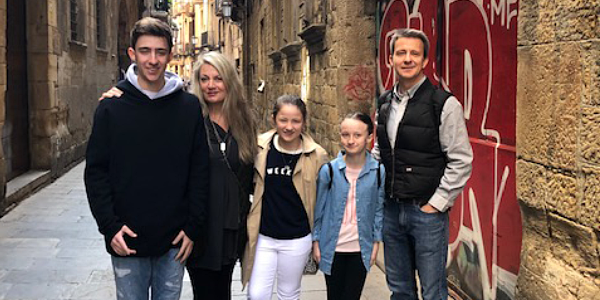 One caring, positive adult can change the trajectory of a child's life. For Nikki, that person was her school counselor.
Nikki's counselor thought she may benefit from the Camp Good Health (CGH, now called Camp Tanager) experience and facilitated her attendance in the mid-1970s. Nikki remembers, "He was a really good guy. He looked out for me." This school counselor even escorted Nikki to the Father Daughter Dance.
She believes she was probably identified as being at-risk because she was from a single-parent home, had no guidance and was a latchkey kid.
New experiences at Camp greatly impacted Nikki. Routines, such as getting up early, eating breakfast together, saying blessings and doing things in groups were reassuring. "It felt very much like a family, and that was something I obviously wasn't experiencing at home. Camp let kids be kids without having to worry about whether there would be food for dinner or thinking, My mom has to work; am I going to see her today?" She remembers thinking, "Wow! Maybe this is how things are supposed to be?"
"A big thing for me, honestly, was the mealtime. We didn't do that at home. We didn't sit around the table and talk. At Camp it was a time of reflection. There was just a feeling of being welcomed, people caring for you, bringing everyone together. Kids were from all backgrounds and ethnicities and it was a very positive environment all the time."
Nikki is a success story. Along with Camp counselors, her grandmother and aunt helped her see a bright future. After college graduation she joined the Younkers executive management training program. She was promoted frequently and attributes that to being a hard worker who cared.
"I just worked really hard and people noticed when you least expected them to notice. I think Camp was all about that, too. I remember them being good about asking what your interests were, asking what you wanted to do that day and paying attention to you," Nikki says. She became a district manager, leading to her 15-year career with Channel as a Key Account Executive. Now, she owns a successful retail store, Scout of Marion, and is home with her children.
Nikki believes Camp is really all about building confidence in kids. "People might have thought I was a confident kid because I was pretty outspoken, but I wasn't. Most kids aren't. I think part of the confidence Camp taught was through comfort and safety."
Today, she works to maintain that sense of comfort and safety in her own family. Through legacy gift , she and her husband, Dick, are ensuring the comfort and safety of Tanager Place children in the future. They embody the philosophy, "We're a pack. We're open and want the best for all!"
You can help change a child's life with a gift for the future. To learn more, contact Melissa Walker at mwalker@tanagerplace.org or 319-365-9164 ext. 310.